A BRIEF HISTORY OF THE EARLY DAYS OF RUGBY LEAGUE IN W.A
Presentation to the Past Players and Supporters Club
By BOB WILLIAMS, son of Roy J.R.Williams, Life Member
and Founding Secretary/Treasurer of the WARFL
I am indebted to the Past Players and Supporter's Committee to be given the opportunity to present some details of the early history of our game in this state.
Since much of the history has been lost over time, I am appreciative of the notes prepared for this presentation by Len Castle.
We would be doing a great injustice to the Founding fathers if we didn't attempt to acknowledge the contribution that was made by a group of committed enthusiasts whose early efforts over sixty years ago initiated in Western Australia the development of "THE GREATEST GAME OF ALL"
THE CONCEPT,THE BIRTH, THE GROWTH
Today, I am possibly the only surviving witness to the secret meetings that were conducted at my parent's home at 55 Stubbs Terrace Daglish during 1946 and '47. As a 14 year old schoolboy (then playing Rugby Union at Perth Boys High School) I observed some of the State's best and well known players and officials, furtively gathering after dark at our home for the purpose of formulating plans to launch the game of Rugby League in W.A. It was extremely risky for all of them because detection of such involvement would have had them disbarred from Rugby Union for life.
With the numbers of returned W.A servicemen who had been exposed to Rugby League during the war years and with the Eastern States servicemen, who married W.A girls, there was a very fertile field of potential League players and Officials to be drawn upon.
The excitement resulting from the 1946 Tests with one of the most famous British teams, who sailed to Australia in the "HMS Indominatable" and the increasing dissatisfaction with the administration and management of the W.A Rugby Union, triggered a growing interest and movement to establish Rugby League in Perth.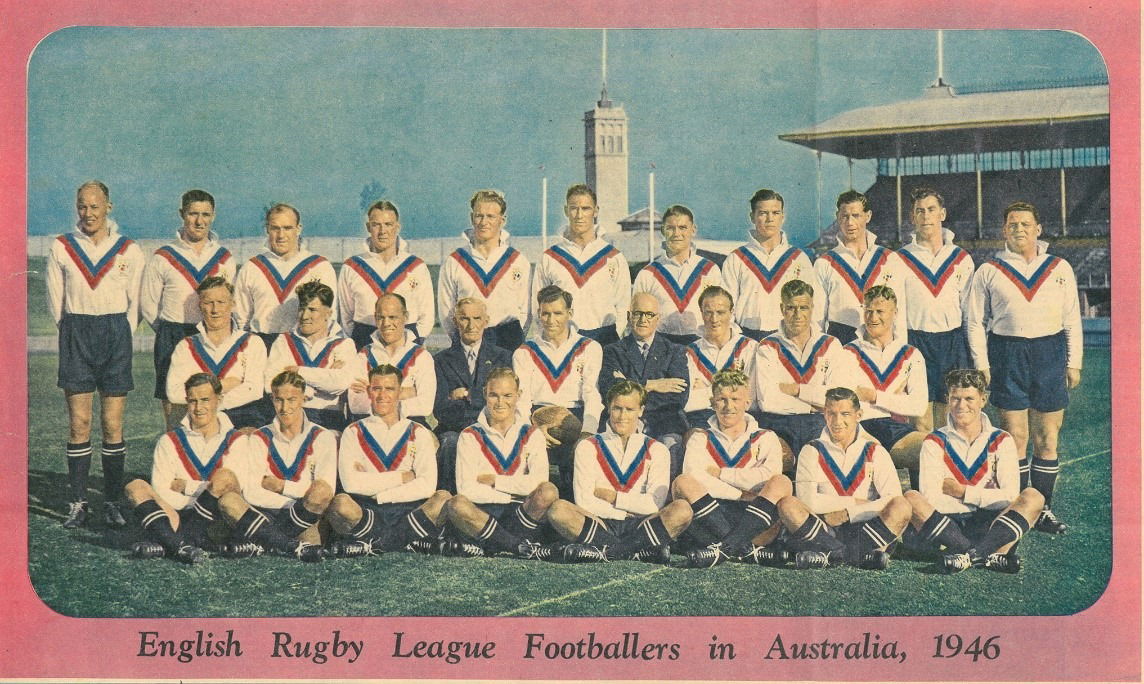 The initial organisation of those preliminary meetings to instigate a breakaway movement was conceived by a Mr. Gordon Squires, Mr Frank Hudson and Mr Arthur Hodgkiss and my father Roy Williams, who had been WA Rugby Union's leading 1st Grade and International Referee in the pre-war years. Roy was subsequently to become WARFL's Foundation Secretary/Treasurer and was presented with Life membership in 1950.
Records are not available to identify and acknowledge all of those initial early pioneers, but memory recalls such names as Barney Silbert, Bill Dermer, Frank Baguley, Keith Ingram , Ken Allen, Doug Tonkin, Terry Sullivan, Joe McGuiness and Ray Owen from the Fremantle Club (which was the first Rugby Union Club formed in WA). From South Perth Club, Jim Burns, Jim Carroll, Bob Chester, Don Court, Dan Fogarty and George Dixon. From Cottesloe, Roger Utting, Jack Cousins, and Graham Washington. From Perth Club Sam Cohen, Norm Stolberg, Merv Jenkins and Bert Wells
Following the many clandestine meetings of those stalwarts, the Western Australian Amateur Rugby League was formed in early 1948 with Jim Burns elected as President, Gordon Squires Chairman and Roy Williams Secretary.
Apologies are extended to any and all individuals and Clubs whose names were not acknowledged and included above amongst those pioneers, many of whom were also to play in the first Rugby League match in Perth on the Perth Esplanade on Saturday 17th April 1948 between Fremantle Districts and Perth Districts. How many here today attended that auspicious event ? I had the good fortune of being there to witness WA Rugby League history in the making.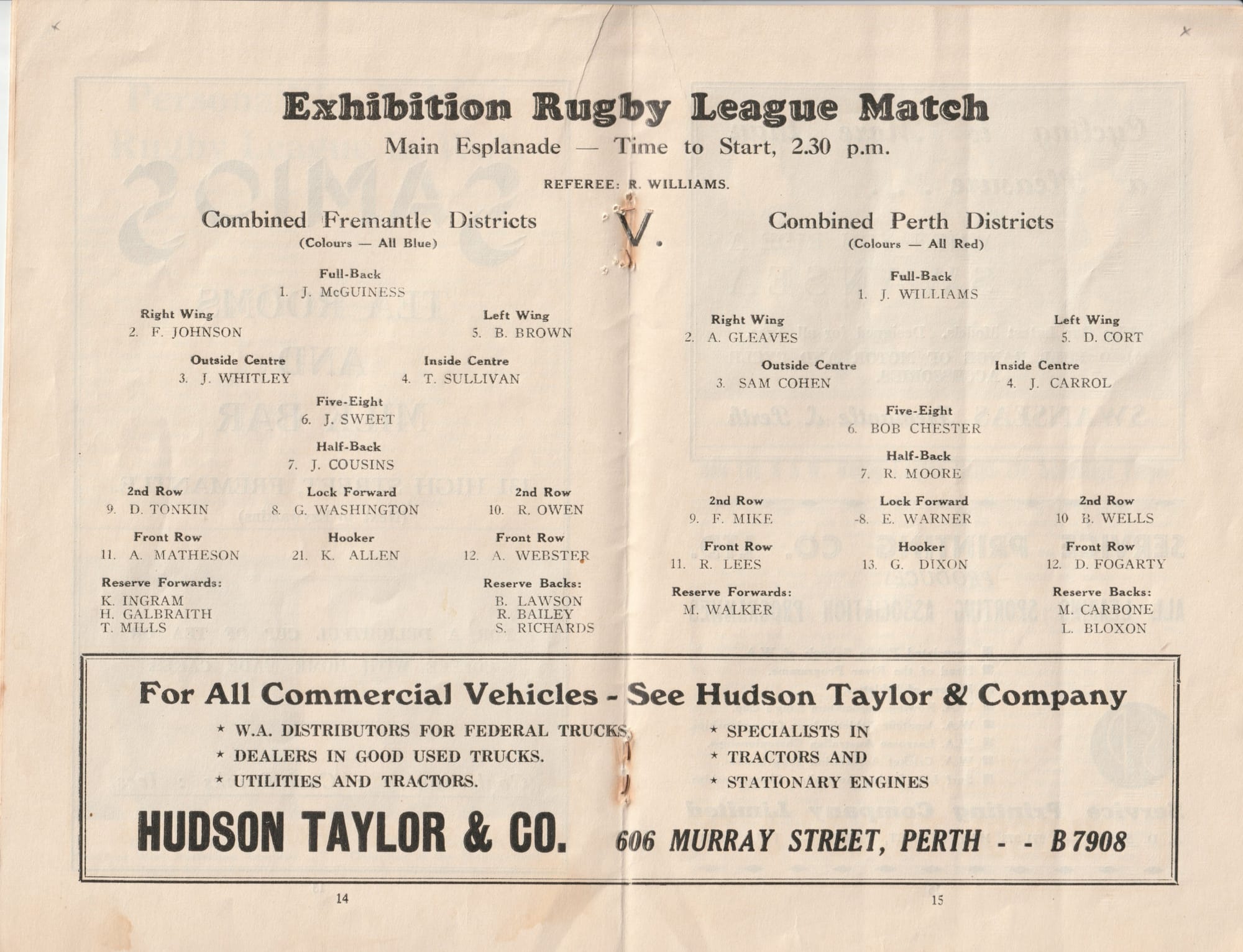 A little known fact was that during those early formative years , Arthur Folwell, former 1933/4 Kangaroo Hooker and Premiership coach of Newtown and subsequently an Australian selector was seconded by the ARL to spend several months in Perth coaching players in the skills of League.
He was accommodated for that period with us at our Daglish home.
The foundation Clubs forming the competition in 1948 were Fremantle, South Perth, Perth and Cottesloe later joined by Applecross-Mt. Pleasant formed also by members of the Fremantle Rugby Union Club. The competition was born with four 1st grade, four Reserve grade and seven third grade teams. South Perth became the historical 1st Grade Premiership winners.
1948 was also a historical year in that the first Kangaroo side to tour Britain and France since the end of the war called into Fremantle on their way to Britain by ship. The WAARL hosted a function at the Fremantle home of the Chairman Gordon Squires. I attended that function with Roy and my mother Edna and proudly still have a number of those players autographs here today. Memorable Kangaroo names attending that function include Colin Maxwell Captain, Keith Froome, Fred de Berlin, Bobby Lulham, Doug McRitchie, Eddie Brosnan, Duncan Hall, Johhny Hawke, Kevin Schubert and an up and coming champion- Clive Churchill. The Team manager was Bill Buckley who was subsequently to become President of the ARL. These Kangaroos won 24 of 37 games played overseas but lost to Britain 3-0 in the Test matches.
A team from South Australia/ Woomera competition reportedly also visited Perth that year. Details of teams and matches played are unknown, but I do recall that Mr. Bill Dangerfield, President of the SARFL was very actively involved and held the game together in that State until his untimely death.
In 1949, a highlight of this year was the first visit of a NSW Club team. In September, the Balmain Tigers played a State team under lights at Fremantle Oval. How many here today were at that game?
I was lucky enough to have a close-up view of the game as Ball-boy and was probably the first kid in WA ever to wear a Balmain jumper and wear it all day every day thereafter. Some of those famous Balmain boys included Bob Lulham Captain, Jack Spencer Vice-captain, Jack Brannigan. Leo Nosworthy and Tom Lawlor. The referee was a J.O'Brian. No record of the WA Team or score is available.
Also Victoria Park was formed and joined the competition but did not win a 1st grade premiership until 1956.
1950 was the year that the first International match was staged here, when Eric Ward's British team on it's way to Sydney unmercifully defeated WA 87-4 at the Claremont showgrounds in front of 7,000 spectators. The British team went on to win 15 of their 19 matches but lose the Ashes to Australia in the final Test 2-5 at the SCG on 27th July.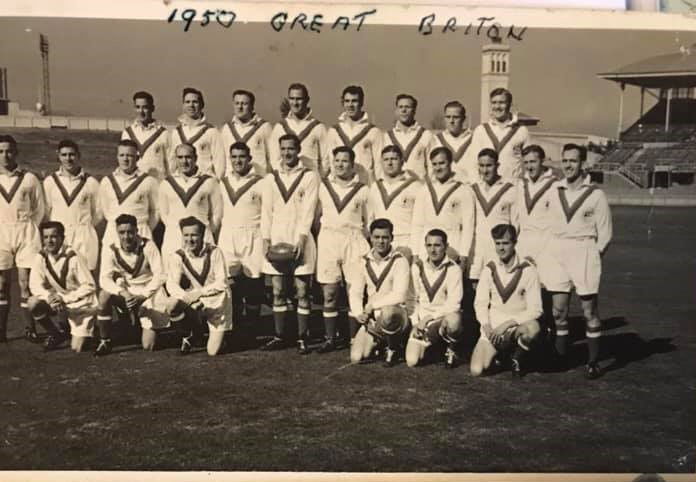 1950's also saw Palmyra and Nedlands switch from Union to League to join the competition and Fremantle won its first Premiership.
In 1951 Roger Utting, Wally Stein and Terry Garmony and others playing for various Clubs, formed the North Beach Club and entered the "A" Reserve competition, but it would take them 21 years to win a first Grade Premiership. This year also saw the Perth Club win their 2nd Premiership having won in 1949.
This was also the year that as a spectator, I witnessed a great boost to the local game when the irrepressible French touring side played WA at Claremont Royal Showgrounds before a record crowd of over 15,000 people. One of the match highlights was the great kicking dual between the French star full-back Puig-Aubert and WA's Bob Sampson who kicked 7 goals from 9 attempts including a massive goal from more than 10 yards behind the centre line. How many here today also watched that historical match ? This spectacular French team was to go on and win the Ashes in Sydney and thrashed Australia 35-14 in the 3rd Test. Puig-Aubert kicked 7 goals in that match, breaking Dally Messenger's 40 year old record of 11 goals for a Test series. Also well remembered were French stars Rene Duffort and Joe Crespo who scored 3 tries in the last Test.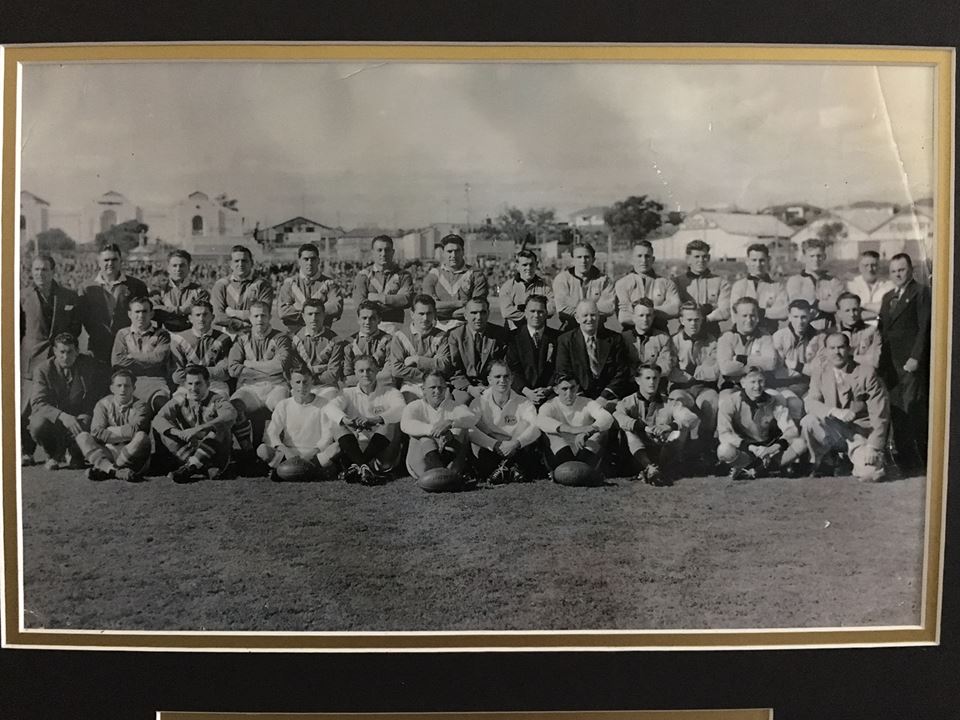 The following year, 1952, a WA team played a Combined Public Service team as a curtain-raiser at the Sydney Cricket Ground.
By 1953, in just five years since formation, the game had rapidly spread and boasted some 62 junior teams competing in the Junior Carnival.
A Second Division had also been formed to include Southern Districts, Mt. Pleasant, Balmoral, Canning Districts, Northern Suburbs, Midland, North Beach, Azzuri and Hellenics. Who can ever forget the great contribution and characters such as Micky Kailis and Les Arris that the Hellincs Club brought to the game? Also in 1953, Sunday football began with the enclosed ground venue of Higham Park at the rear of the Showgrounds
In 1954 the State Selectors looked to the future when choosing the team travelling to play against South Australia under lights at Norwood Oval. The selected team, of which I was one, was young, with average age 20. and included only 3 players from the Eastern States, E.Tickle (Applecross), L.Conroy and A.Smith (Fremantle). Coodie Robson and Norm Bowden were the only players who had represented previously. The Captain was Snow Kidner and Coach Bob Chester.
In this year also South Perth achieved a string of 3 years Premiership wins.
It would seem most appropriate to conclude this brief early history with the year of 1955. This year 2005 being the 50th anniversary of the official opening of League Headquarters at Belmont Oval on 15th May and the match between France and WA with France winning 31-6. I played Full-back on that day with Captain Martin Dickhart and Vice Captain Bill Hillier with Roger Utting refereeing. There were only two former Eastern states players in the team. Les Carr and Ron O'Brien. The attendance was over 15,000 people which exceeded the anticipated number required to meet the gate receipts 650 Pounds guarantee to the French team. It is interesting to recall that the match nearly didn't proceed when the French Manager Antoine Blaine complained about the Belmont Oval surface which can be best summarised by a quote from the "West Australian" on the game "The style of open play favoured by the Frenchman was not helped by the sandy nature of the ground" An understatement!!
Time, space and absence of adequate records does not allow for the proper recognition of all of the many great players and officials who have contributed to the rich past history of our game in WA and apologies are extended to them for being unable to name those, who are most deserving.
In researching for this presentation to the Past Players and Supporters, I have been most disappointed and frustrated by the lack of available historical information and it does suggest that before it is too late to gather and collate it, a Task Group should be urgently formed and convened for the purpose of compiling a complete and detailed history of Rugby League in Western Australia from every available source and in doing so we would be truly honouring those great past contributors to our game.
Life Member and previous Past President Ron Hudson also recognised this important urgent need and I quote from his 1983 editorial.
" This is only a small part of the history of our game in Western Australia and I do intend with the help of Ken Allen and others .before it is too late, to compile the history of Rugby League in Western Australia and present to the public the history of our game we have enjoyed so much"
R.J."Bob" Williams
Former member of South Perth and North Beach RL Clubs
Former Vice President WARL
Former President North Beach RL Club
State Representative (Full-back) 1954-6